Worcester Fence Post Hole Borer / Auger Hire
If you are looking to hire out a manned fence Post Hole Borer then look no further. Fencing Solutions are one of the Midlands premier Fencing Contractors and have completed projects for many high profile clients throughout the Worcestershire area. Our Post Hole Borer is also available for hire on an hourly or daily basis as a Post Rammer.
Fast & Efficient Post Hole Borer Hire Services In Worcester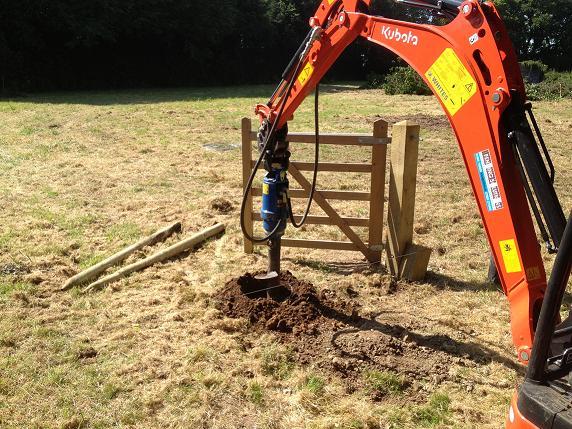 Whether your Fencing Solution needs delivering on a difficult ground environment or not, the Post Hole Borer is a great asset to have at your disposal for almost any fencing installation.  Great at negotiating tricky slopes and perfect for tackling rugged or firmer terrain, the post hole borer can be used in all manner of fencing projects where access for this compact machinery is not restricted.
Being both competitively priced and quick on the job, the post hole mini auger will beat any manual process to the finish line with consummate ease, which means that it will beat any other means of excavation on price whilst easing the strain on your fencing project budget.
Our Post Hole Borer Is Now Available For Hire In Worcester…
Our Fence Post Rammer Service may also be an alternative solution if you don't require this level of excavation.
Fencing Solution machine operators are all highly trained and experienced Fencing Technicians. They are always available and equipped to answer any questions you may have about our Post Hole Borer Hire or Rammer Services.
For further details about our Post Hole Borer and Rammer Hire Services in Worcester, why not call us today on: 01905 748856 or 07808 273405. Or alternatively, send us your quick enquiry by filling out the form (left), when we will get back to you with a quote or any further information that you have requested.