Worcester Fencing – Security & Garden Fences From Palisade to Closeboard Fencing
Welcome to Fencing Solutions Worcester. We can service your fencing requirements outside of Hereford & Worcestershire, however please call for details. Some of the areas we serviced locally are Powick, Leigh Sinton, Rushwick, Malvern Link, Ludlow, Bromyard, Pershore and Evesham.
Fencing Solutions Worcester
Fencing Solutions are able to provide you with a full range of quality supplied and fitted fencing installations. From a variety of everyday garden fences to fencing required to enclose or provide demarcation for any level of security environment. See just some of the fencing solutions we can provide. If you have already purchased the materials for your job, then don't worry, we will also undertake fitting jobs providing the specifications are fit for purpose. The slide to the left features a number of different installations showing the different types of practical solutions available mainly for commercial use.
Security Fencing Worcester
Palisade Fencing
Galvanised or Powder coated:
Palisade (BSEN ISO 1461)
Triple Pronged or 'N' Notched
Palisade High Security Portcullis
Steel & Wire Mesh Fencing
Galvanised or Powder Coated:
Rigid Welded Mesh Panel
3M Paramesh Fencing & Gates
Paramesh 868 Fences & Gates
Vertical Bar Fencing & Railings
Galvanised or Powder coated:
Vertical Bar Fencing
Bow Top Railings
Vertical Bar Gates
We are also experienced fitters of many types of knee-rail fencing.
---
Garden Fencing Services Worcester
There are many types of garden fencing solutions which can be used to enclose and make your garden both a secure and secluded environment. From the most common and cheaper overlap fencing which come in fencing panel sections, to sectional close board fencing with concrete posts and concrete Gravel boards. If you are looking for a high privacy fence then close board fencing is definitely the way to go. With several pressure manufactured systems available, closeboard fencing provides high privacy levels, with no gaps. Even after some years of wear and tear you will find that if any gaps do appear where knots or other faults within the wood have 'popped out' then these can quite easily be managed by filling. A split overlap fence panel, however will usually require a full replacement and may end up costing you as much as the very reasonably priced and more durable closeboard option.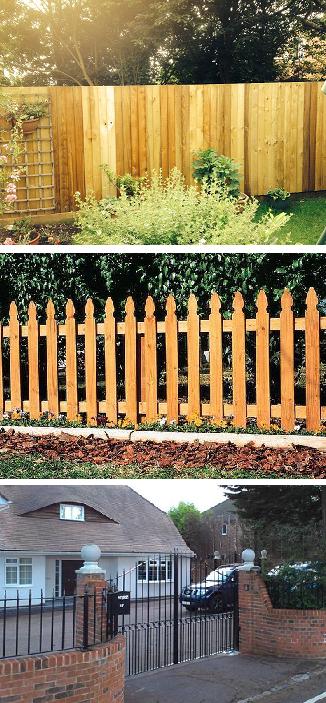 Pictured are  just a sample of some of the Garden fencing solutions we can supply and fit – Call us today or send us your enquiry using the form on this page and we will gladly provide you with a quote for a bespoke fencing solution for your home:
Closeboard Fencing:
Close Board Fencing with Concrete Posts & Gravel Boards
Closeboard Fences with Mortice Posts and Arris Rails
Pickett Fencing:
Palisade Round or Flat Top Picket Fencing
Vertical Bar Fencing / Railings
Vertical Bar railings palisade, Rounded or Decorative
Areas we service in and around Worcester: Ombersley, Leigh Sinton, Hallow, Whittington, St. Johns, St. Peters, Dines Green, Lower Wick, Powick, Bransford, Rushwick, Kempsey, Broadheath, Warndon Villages, Tibberton, Norton, Broughton Hackett, Fernhill Heath.