Security & Garden Fencing Malvern – Palisade Steel & Closeboard Fencing
Fencing Solutions in Malvern
Fencing Solutions can supply and fit a wide variety of fencing for either Commercial or residential needs. If you are looking for a robust garden fence or need a higher priority fencing enclosure to demarc your business premises from public areas or to deter intruders, then take a look at just some of the types of fencing jobs we are experienced in installing. Whether you would like us to source fencing to specification or have already purchased it 'ready' for us to fit, we don't mind. As long as we can agree that the fencing you have sourced is fit for purpose. See our slideshow to view some examples & the diverse range of commercial and security fencing solutions available to you. Please contact us if you have any questions.
Security Fencing Malvern
Palisade Security Fencing
Galvanised /Powder coated:
Palisade (BSEN ISO 1461)
Triple Prong / 'N' Notched
Palisade Portcullis Fencing
Steel & Welded Mesh Fencing
Galvanised / Powder Coated:
Welded Mesh Panel Fencing
3M Paramesh Fences & Gates
Paramesh 868 Fencing / Gates
Vertical Bar Fencing & Railings
Galvanised or Powder coated:
Vertical Bar Fencing
Bow Top Railing Fence
Iron Vertical Bar Gates
Fencing Solutions can also supply bespoke knee-rail fencing solutions for a variety of different scenarios.
---
Garden Fencing Malvern
When considering which type of garden fencing solution you need to use to enclose and make your garden both secure and secluded, you may want to balance privacy levels with budgetary constraints? If you decide to opt for one of the most prevalent and cheaper solutions, such as overlap fencing or everyday Fence Panels, then you may find yourself heading in the direction of a false economy. Closeboard fencing which can arrive in various formats such as sectional boarding between concrete posts set on a concrete Gravel board provides a very durable and private fencing option. Often pressure manufactured a closeboard fence will provide you with the greatest level of privacy and very effectively shut out the outside world.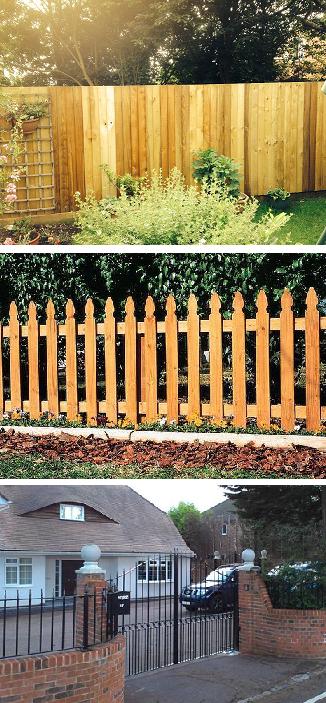 Gaps that might sometimes appear in closeboard fences are not associated with damage or even deterioration of the fencing structure and are more likely down to 'knots' in the wood which have over the years slipped out. These can easily be remedied, usually by a quick filling solution, whereas a delapidated or breached overlap fencing type panel,will almost certainly need an immediate replacement. Closeboard fencing may appear a slightly more costly solution at first glance, however the benefits it provides in the way of privacy and longevity make it hands down the best residential fit.
Closeboard Privacy Fencing:
Close Board Fencing – Concrete Posts & Gravel Boards
Closeboard Fences – Mortice Posts and Arris Rails
Pickett Fencing:
Picket Fencing – Palisade, Round / Flat Top
Vertical Bar Fences / Railings
Vertical Bar railings palisade, Rounded or Decorative
You can see some of our typical Garden fencing solutions – If you would like us to provide you with a quotation for your home or garden then why not call us today or drop us your details using the form provided on this page: