Droitwich Security Fencing & Garden Fences- Steel Palisade to Close Board
Fencing Solutions in Worcestershire are able to complete all types of Security or residential fencing installations throughout the Drotwich area. From Low Cost galvanised steel palisade fencing solutions to top of the range but highly cost effective Close board garden fencing installations. if you have need of a fencing contractor within the Droitwich area then please do not hesitate to contact us when we will quote you our best prices for the specification you require.
Fencing Contractor Services in Droitwich
Droitwich Fencing Solutions: if you can't see the type of fencing you require below then this doesn't necessarily mean we can't meet your fencing needs. The gallery features some of our typical Security fencing installations which can be carried out in the Droitwich area. We specialise in low cost steel Palisade fencing, Steel Mesh (rigid panel) fencing, but can provide a number of other solutions too numerous to mention.
Security Fencing Droitwich
Palisade Fencing
Galvanised or Powder coated:
Palisade (BSEN ISO 1461)
Triple Pronged or 'N' Notched
Palisade High Security Portcullis
Steel & Wire Mesh Fencing
Galvanised or Powder Coated:
Rigid Welded Mesh Panel
3M Paramesh Fencing & Gates
Paramesh 868 Fences & Gates
Vertical Bar Fencing & Railings
Galvanised or Powder coated:
Vertical Bar Fencing
Bow Top Railings
Vertical Bar Gates
Knee-rail fencing is also one of the solutions we can provide to prevent vehicles mounting areas which have demarcation for pedestrians only.
---
Garden Fencing  Solutions in Droitwich
We are very happy to quote you for your common or garden Fencing Panels, however we would highly recommend the use of Close Board fencing as a more effective and long term system to enclose your garden. Close board fencing will provide your garden with a safe and secluded solution which will not only give you that extra comfort factor as far as privacy goes, but will protect your pocket too. Whilst fencing panel systems may seem a cheaper option, they are in no way comparable to a well installed feather-edge Close board fence. Fencing panels are made of light materials and easily damaged, whereas a solid close board fence will stay maintenance free for years to come.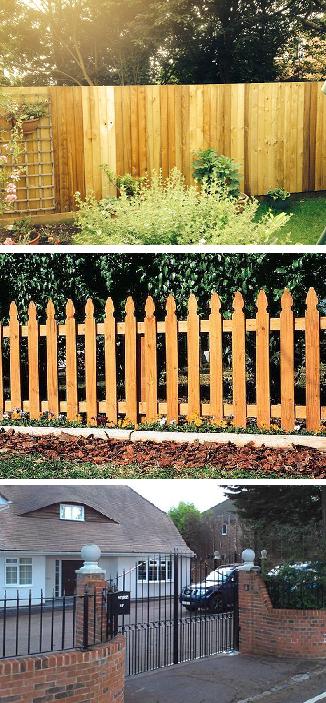 Close board fencing is one of our preferred installations, but we can also provide vertical bar railings and any size of Pickett fencing in flat-top or palisade designs and at various heights or with different wood or painted finishes:
Close Board Fencing:
Close Board Fencing with Concrete Posts & Gravel Boards
Closeboard Fences with Mortice Posts and Arris Rails
Pickett Garden Fences:
Palisade Round or Flat Top Picket Fencing
Vertical Bar Fences or Railings
Vertical Bar railings palisade, Rounded or Decorative
Some of the places we work around Droitwich: Droitwich Spa, Ombersley, Smite, Copcut, Oddingley,.

Click on a thumbnail image to view some of the pictures from the fencing galleries shown above: